Pup Kenzo
Mr. Eagle NYC 2022
Pup Kenzo (He/They), is an activist and advocate in the LGBTQIA(+), kink, and BDSM communities. He has been growing, maturing, and sharing his knowledge and experience through friendship, fellowship, and active participation in all aspects of community life since 2013.
He is a founding member of The Kink Collective, Gotham Kennel Club, and New York Age Players Munch and is also a Full member of Onyx NY/Northeast. Kenzo espouses the core value of "people before kink" in interpersonal interactions in each organization. His dedication to authentic encounters is evident in his proactive participation in kink community education, awareness, and sexual health events over the last 5 years all around the country.
Kenzo has emerged as a leader among his peers by planning, sponsoring, and hosting several gender/orientation inclusive kink events, creating safe spaces for anyone and everyone in the community to explore their aspects of leather under his protective tutelage.
Pup Kenzo's fierce spirit and boundless imagination are ignited by two mantras that guide and fuel him: "Be the change you wish to see in the world" and "always live in your true authentic self.
Michael Jeavons
Mr. Eagle NYC 2020
With one eye on our past, another on the future and always seeking opportunities to be a bridge between the two, Proud Leatherman, Real Estate Professional and Seeker-of-all-things-fun, Michael, your Mr Eagle NYC for 2020, has arrived and is ready to serve.
Whether it's volunteering for, hosting fundraisers, contributing to community events, supporting the efforts of fellow community members, cycling 300+ miles each in both the Cycle for the Cause and Braking AIDS ride and pretty much anything else he can do to make a contribution, the opportunity to give back is definitely something that drives his life.
From his early leather days in Philadelphia to the more recent ones in NYC, he can always be counted upon to lend his voice, a hand and pretty much whatever else is needed (yep, you heard that right) for the support, betterment and enrichment of the Community. Why? Because he believes that through the joyful service of others he both finds himself and feeds his soul.
Thom Kam
Mr. Eagle NYC 2019
Originally from Honolulu, Thom got his earliest exposures to the leather world in the mid-70s in San Francisco and then after moving to New York in early 80s. He fully embraced being a quiet but recognized member of the NY leather scene in 2005.
He's a veteran cyclist of more a dozen AIDS rides across 6 states and a founding member of Team Eagle NYC which since 2007 has raised more than a million dollars for HIV/AIDS programs at The LGBT Center NYC.
His professional careers have taken him to Broadway, Carnegie Hall, the advertising and financial sectors.
Through the years he's volunteered his time to the GMHC AidsWalk, The Trevor Project and more recently committed himself as an active member of the SAGE Friendly Visitor program. His focus is shifting to include creating programs that generate mutually beneficial support and learnings between the elderly and the young in our gay and leather communities.
Joseph Macchia
Mr. Eagle NYC 2018
Joseph was born and raised in NYC. Seven years ago he walked into The Eagle and knew he found a home and a safe place. He began his leather journey in 2014 when he competed for the Mr. Eagle title. Joseph is into rope bondage, flogging, and CBT. Having worn many hats, he has been in the entertainment industry for 20 years, booking acts and producing shows.  He volunteers for Broadway Cares Equity Fights AIDS and has raised funds for them. Twelve years ago Joseph decided to work with Children living with HIV & AIDS. He met a little boy who was living with HIV, AIDS and Cerebral Palsy. He was in need of a new motorized wheelchair and government agencies had failed him. It was then that Joseph founded "Help Is On The Way Today," a not-for-profit that helps babies, children, and youth living with HIV & AIDS. A cancer survivor, Joseph is uniquely qualified to speak about its awareness. He lives his life with one belief; it does not take money or fame to make a difference "Just A Voice And A Belief." His journey continues.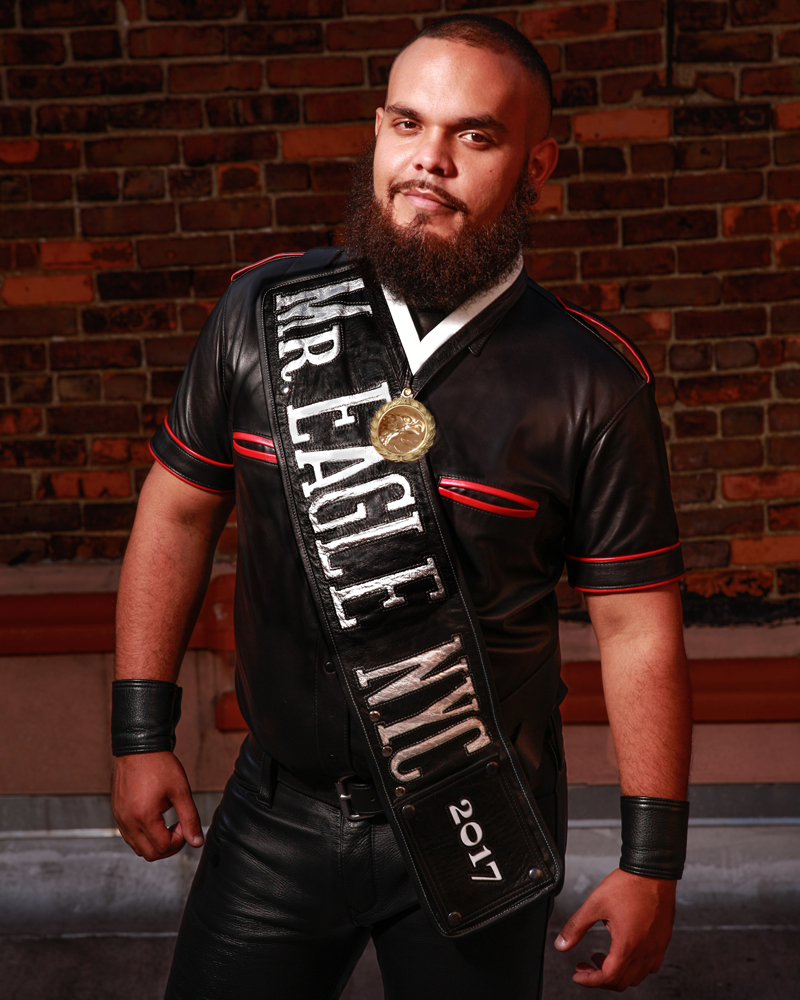 JOHN JOHN PUNKI
MR. EAGLE NYC 2017
John-John, Mr. Eagle NYC 2017 is a Puerto Rican/ Sicilian Native New Yorker. He was the first Mr. Rockbear NYC. He was introduced to the leather community in 2011 by Onyx NY/Northeast, a leather and kink organization for gay, bisexual,  transgender men of color where he held the president role in 2014.  He is currently a member of B.U.I.L.T Brothers United in Leather Together. He's a member of Mama's Family and holds the Mama's Ball of Fire name.
He served on the committee of Leather Pride Night NYC from 2012 through 2014 where he helped to raise money for homeless youth, the transgender community, and the NYC Pride Parade. "Nothing for us, without us!" That's the motto John-John likes to live by, ensuring that all community members are included in whatever moves are made.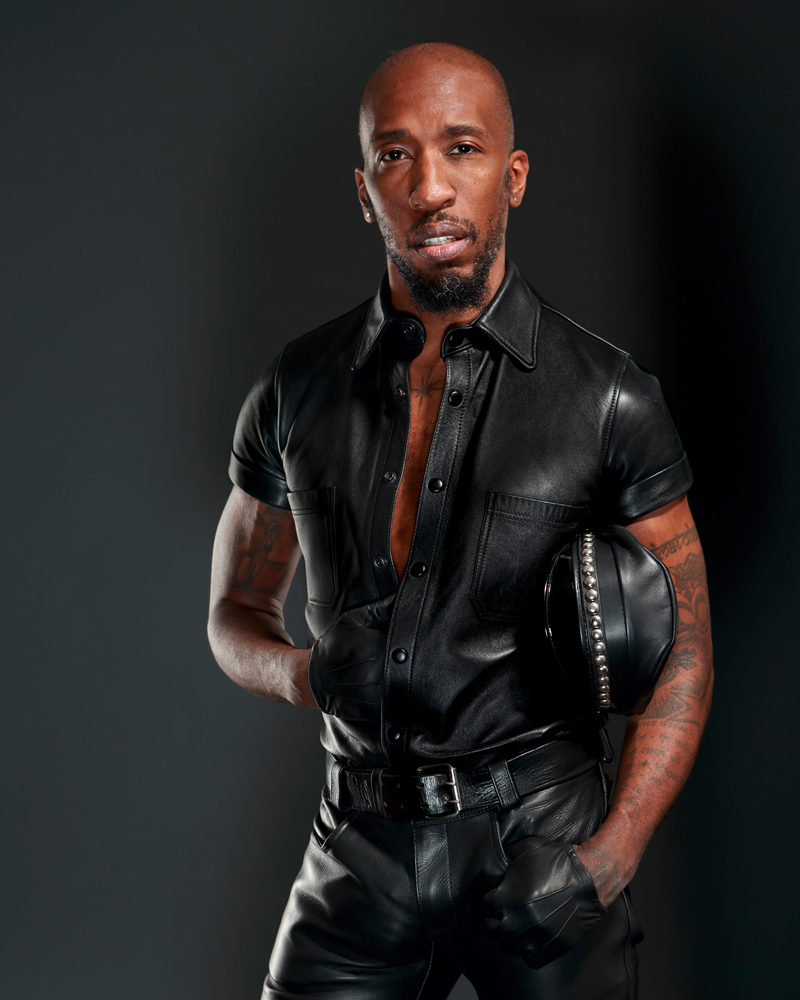 Q
Mr. Eagle NYC 2016
Manskins NYC Gear Consultant, Barber and leather man since 2006. 
Underneath the sash is a loving husband, talented hairdresser, Brooklyn's finest son and Hell's Kitchen resident. Avid supporter of HIV/Aids education, he does all he can to support the HIV Smart Campaign. Proud member of Team Eagle, also supporting The LGBT Center for Cycle For The Cause. He believes in "love and service" to be a resource in his main goal not just as Mr. Eagle, but as a member of his community. Happiest on the dance floor. Loves to travel. He's fully aware that he's been referring to himself in the third person this entire time. You get the sense he does this a lot. I wouldn't pay it much mind though. He doesn't take himself too seriously and absolutely insists on enjoying life…and he thinks you should too!
Boy Laney
Mr. Eagle NYC 2015
Living on Long Island since 1992, Boy Laney moved to New York from West Texas after meeting his partner Bruce. Raised on a cotton/peanut farm, he is proud of his heritage while considering himself a New Yorker at heart.
In the 80s and 90s, Boy Laney worked with those living with AIDS as an IV Home Care Nurse. Since then, Boy Laney has dedicated his life to community work benefitting various organizations that support people living with HIV/AIDS.  Although the atmosphere of HIV/AIDS has changed over the past decade, he continues his work with his new focus on the addition of PREP to the HIV battle.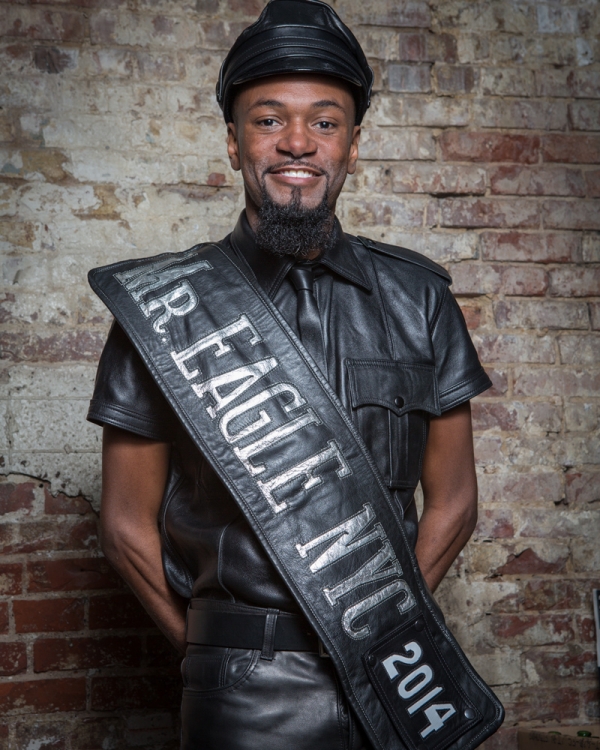 Cee Jay
Mr. Eagle NYC 2014
After relocating to New York from Tennessee in 2010, Cee Jay began to explore his interest in leather. While attending Mid-Atlantic Leather Weekend in 2011, he soon pledged to ONYX NY Northeast.  Since then, CEE Jay has served as chapter president and assistant pledge master.  He also serves as an executive committee member of NYC's Leather Pride Night, an associate member of the New York Boys of Leather (NYBOL).
Cee Jay considers himself to be on the third stage of his leather journey.  The first stage was about learning about the community and exploring to see where he fit in.  The second stage was about establishing relationships/mentorships and his current stage involves continuing the first two, while being a mentor to those interested in being a part of the community.  Cee Jay enjoys rope bondage, spanking/flogging and biting. His leather mantra is "Not everyone will understand your journey.  That's fine. It's not their journey to make sense of. It's yours."
Arsenio Amadis
Mr. Eagle NYC 2013
Stay tuned for an updated version!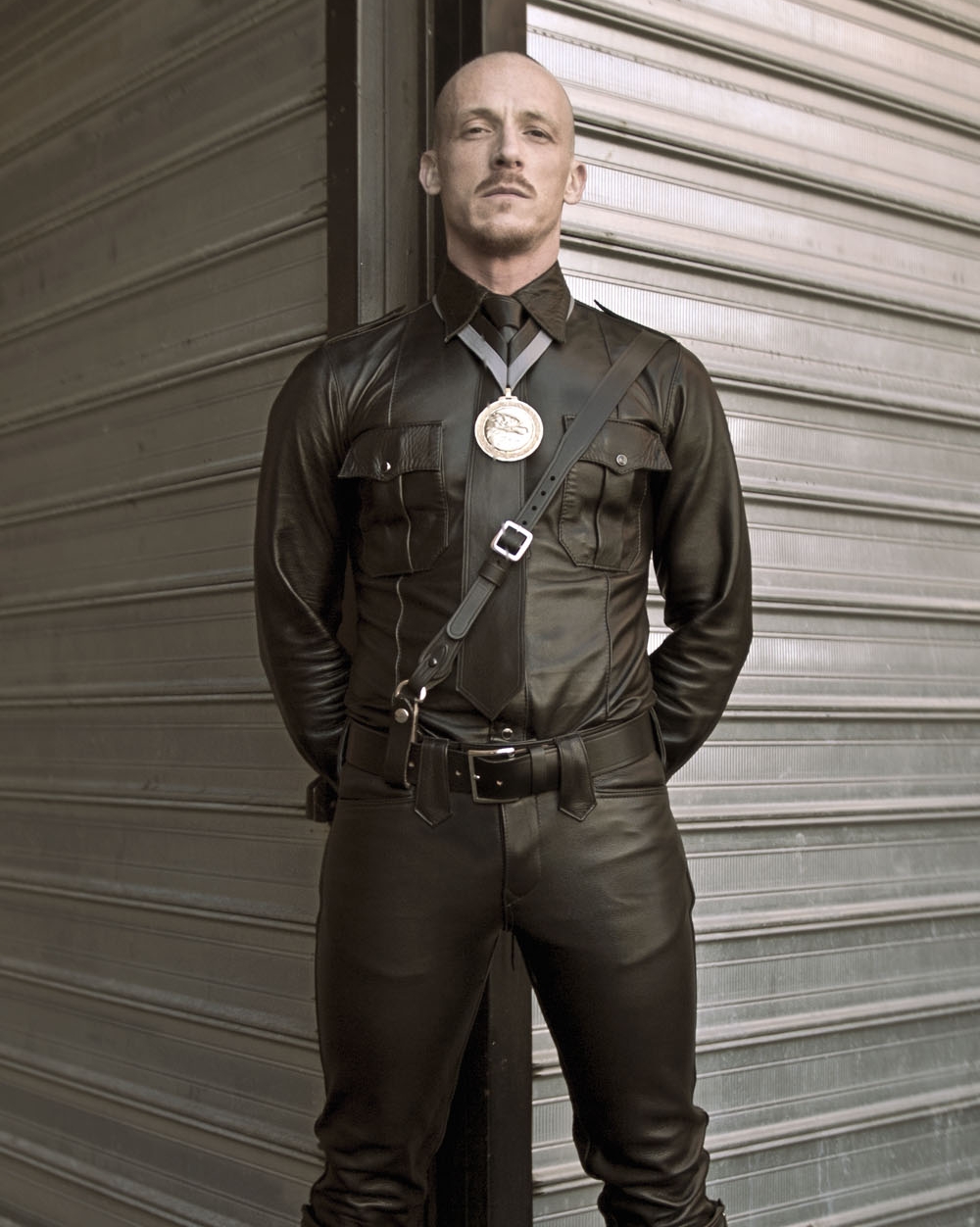 A.C. Demidont
Mr. Eagle NYC 2012
A.C. Demidont is an infectious diseases/HIV Medicine Physician at St. Luke's Roosevelt Hospital Center's Center for Comprehensive Care. Drawing from several life-changing experiences as an undergraduate in Pennsylvania, A.C. developed a passion for HIV medicine. After finishing residency in 2005, A.C. moved to NYC and worked at Callen-Lorde Community Health Center for 4 years. He is an active member of the HIV medicine community in both New York and Philadelphia.
A.C. has been involved in the leather community since 2003. As Mr. Eagle, A.C. worked with two community service organizations which are very close to his heart.  One is the Ali Forney Center: A program that provides housing for homeless LGBT teens. The second is the Gay Men's Health Crisis, a leader in the fight against HIV.
CB Kirby
Mr. Eagle NYC 2011
CB Kirby, Mr. Eagle NYC 2011 was born and raised on an Illinois farm.  He eventually made his way to New York via Florida.
He was a founding member and the first secretary for Central Florida Trident Leather. He has become an active member in the Gay and Leather community since moving to New York City. CB is an active member of Team Eagle, participating in Braking The Cycle, a three day, 275-mile bike ride that supports the HIV/AIDS services of The LGBT Center. He is also an associate member of New York Boys of Leather.
Mentoring is an important part of who CB is and you will often find him mentoring the young and new in the leather and gay communities.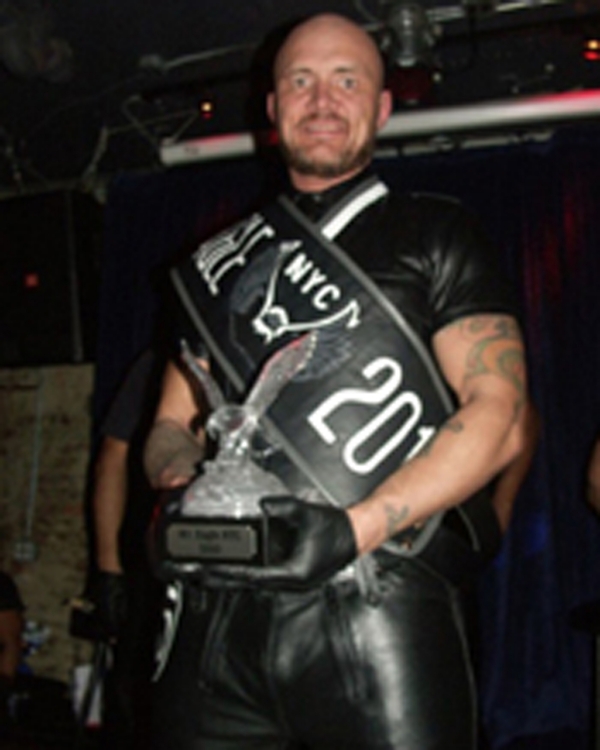 Preacher Cassadine
Mr. Eagle NYC 2010
Preacher arrived in New York City in 1990. After showing up at the Spike in a suit and tie after an audition, he went home and started shopping for leather right away.
During his title year, preacher attended many leather events and held a fundraiser for Callen-Lorde Community Health Center.  He was also at hand to help with a Jail-N-Bail and The Lambda event for The Atlanta Eagle.
Jake Keary
Mr. Eagle NYC 2009
Jake Keary was born and raised in NYC. He started his leather journey while hanging out out at The Lure and The (old) Eagle.
After moving to LA in 2003, he returned to New York in January 2005.  He found himself at The Eagle on the first night he was back in town.
Jake has been a board member since the inception of The New York Boys of Leather in 2005, and has participate in many fundraising events. He supports The Friends In Deed Foundation and their work, providing support to those with a life-altering illness.
Peter Schwartz
Mr. Eagle NYC 2008
Peter Schwartz was Born in 1967 in Mohegan Lake, New York. He finally settled in New York City at the age of 22.
He now calls the West Village home where he lives with his partner Rick. And is a proud parent to Rick's two children.
Peter is an active member of NYC's Gay & Leather Community.  In 2003, he rode his first Braking The Cycle, a 3-day bike ride that benefits the HIV/AIDS service of The LGBT Center, and has helped the cause ever since.
Rick Weber
Mr. Eagle NYC 2007
Rick Weber was born in 1967 and raised outside of North East Philadelphia in Huntingdon Valley, Pennsylvania.  He has two children, a daughter and a son.
In February 2004, he signed up for Braking The Cycle, a 3-day bike ride that supports the HIV/AIDS services of The LGBT Center. In September 2006, he and his partner completed their third ride, raising over $17,000 for the services of The LGBT Center.
The journey to becoming Mr. Eagle began in 2005 when he competed in the Mr. Eagle NYC contest. That year he was placed 2nd out of 7 contestants.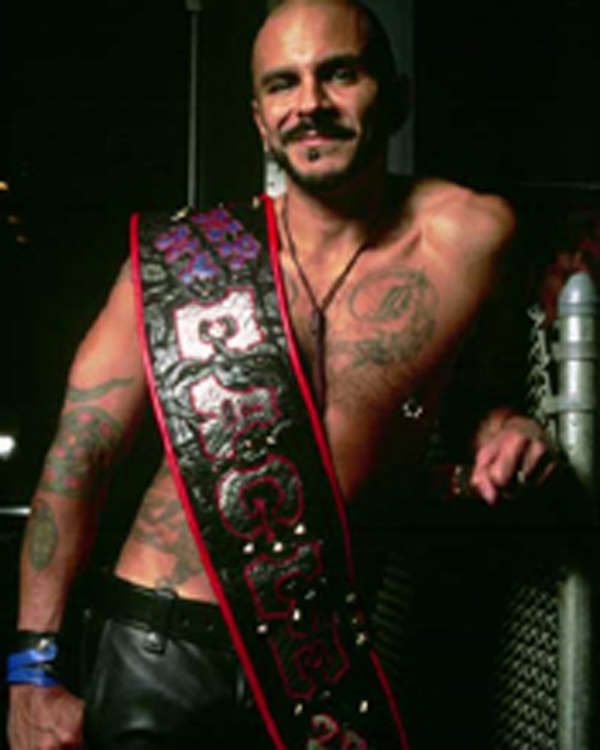 Christophe André
Mr. Eagle NYC 2006
Christophe's first time at The Eagle NYC was back in 1991.  Once inside, he knew had found his new home…a leather bar for men!
One of Christophe's main goals as Mr. Eagle NYC 2006 was to educate a younger generation about the risks of unsafe sex.  His brother and over 15 of his close friends have lost their battles with AIDS.
Christophe felt that it was time to reintroduce AIDS awareness. He delved into and talked about NYU HIV Vaccine Study, a study testing an experimental, preventative HIV vaccine. As an HIV-negative man, Christophe enrolled himself in the study. "It's time we spread the word and not the disease."  He wants everyone to "roll up your sleeves and join the fight against AIDS."
Robert Valin
Mr. Eagle NYC 2005
NYC's leather community has been an inherent part of Robert's history since he stepped foot into The Eagle's doors back in 1982.
A third generation New Yorker and son of a NYPD officer from the Bronx, Robert grew up roaming the city streets on the back of his father's Harley. His grandmother grew up in the 20s, amongst the speakeasies of prohibition-era Harlem.
A stage actor and singer by trade, Robert is a professional voice over artist for radio, television, and film.  And was honored to represent The Eagle Bar and New York, especially at IML in Chicago.
Brian Kent
Mr. Eagle NYC 2004
Brian Kent has been involved in the New York leather community since moving to NYC in the late 90s.
He was honored to represent New York City and The Eagle in 2004.
Brian is a professional singer and kickboxing instructor, performing across the country.
He currently lives in San Francisco.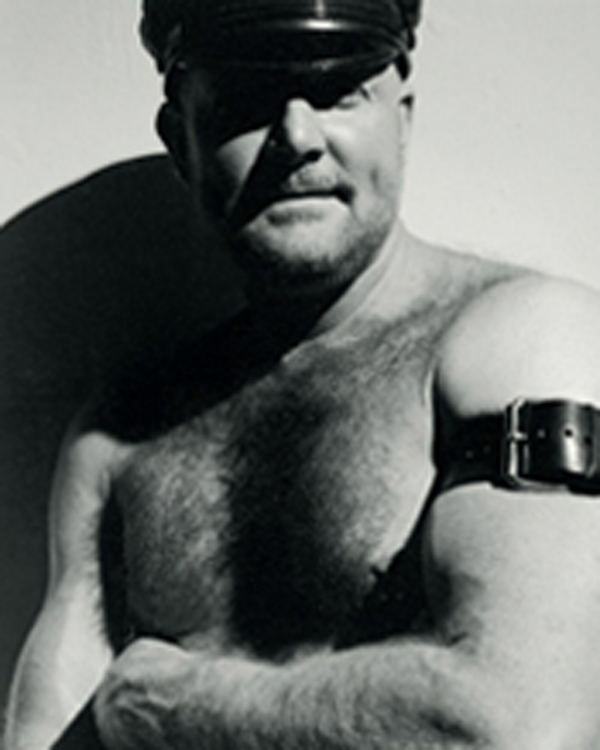 Mike Tully
Mr. Eagle NYC 2003
Mike Tully is originally from Ohio. He worked for a major music chain for many years. Was married and has two sons.
Two weeks after divorcing in 1998, he met a visiting NYPD cop. They've been together since.
When a job opportunity working for a music distributor in NYC came up, he moved here, returning his partner to his native NYC.
Mike and his partner Paul are involved in many volunteer organizations and charitable events including The Gay Officers Action League.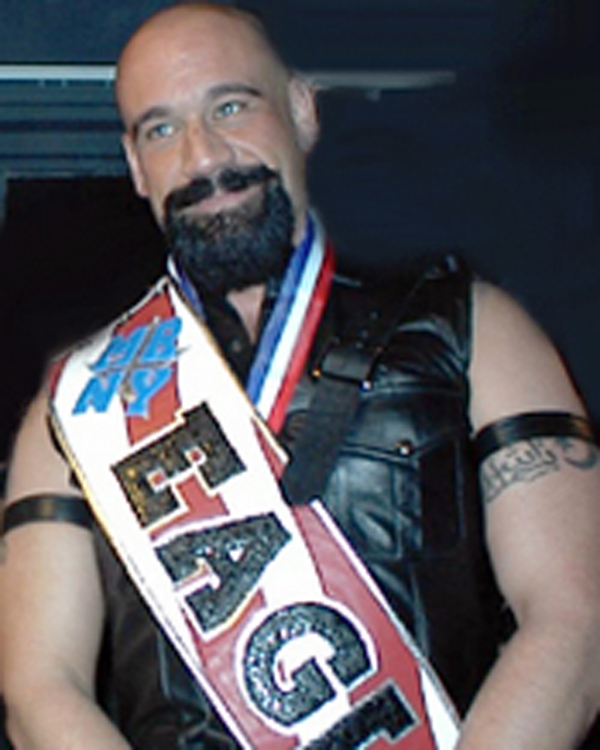 David Karidis
Mr. Eagle NYC 2002
David lives in Stamford, CT with his partner Nelson and is the father of three adult children: Michael, Lisa, and Steven.
The former vice-president of The Hartford Colts, MC, David stays active in the leather community, participating in fundraisers for NCSF and the AIDS project New Haven (CT).
Professionally, David is a linguist, having receiving his master's in Linguistics from the University of Athens, Greece. He is fluent in 12 languages and makes his living as a professional translator.